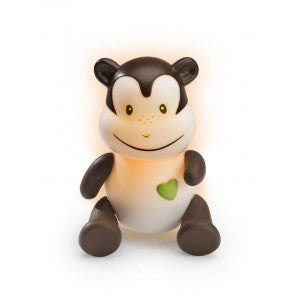 The Pabobo Lumilove Savanoo Monkey is a nightlight that your child can sit and fall asleep. This lamp is made of soft material and is not hot, so your baby can also cuddle. The legs and arms can move so you can leave the Lumilove Moneky standing or sitting. The belly of the Lumilove animals constantly changes color. The soft, soothing colors will relax and help you child goto dreamland.
* Movable arms and legs, they are ready for an adventure. 
* Multi-coloured: they change colours like a rainbow. A light tap is all it takes to choose its colour. 
* 8 hours operation for lots of well-lit hugs. 
* Safe: don't heat up even under sheets. 
* Cold LED light.
Pabobo a French brand was created by industrial safety and design specialists. Designed by a new dad, the founder wanted to bring to the market a new lighting system ideal for children. The products are not only safe but also fun.
Pabobo Hippo is recommended for babies from birth +
While there isn't a law requiring ecommerce stores to have a Return Policy, you may need one if you wish to enforce your terms and parameters of returns and refunds.

For example, in the state of New York, if a retailer does not provide a Return & Refund Policy, the retailer will be required to accept returns and give refunds for all merchandise returned within 30 days of purchase. If you wish to limit this in any way, you will need to create and post a Return Policy with your own custom terms.

Another reason for having a Return Policy even if not required by law is that most consumers prefer to shop at retailers with a clearly-posted Return Policy. This is especially important when shopping online, as more issues are likely when purchasing something without being able to see it in person first.

If you don't have a Return Policy, you may be at the mercy of state laws regulating return and refund timeframes. You may also lose potential customers who are concerned about not being able to return a product if they need or want to.
PURCHASE OVER $100
GET FREE SHIPPING