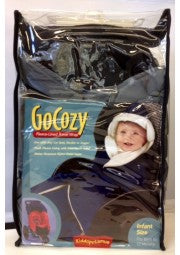 This Kiddopotamus go cozy infant travel wrap is perfect to keep your baby warm in winter when out and about.
Features:
• Fits Birth to 12 Months.
• The Coziest, Best Designed Stroller and Car Seat Blanket Made!
• Unique Harness Slits Accomodate all Harness Systems, including 3 and 5 Point: Car Seats, Strollers, Joggers, and Bike Trailers.
• Whenever it's Needed, a Cozy, Detachable Hood attaches securely to the collar.
• Snugs Up for Warmth.
• Tailored shoulders, double-fleece collar and adjustable tabs eliminate chilly air gaps.
• Opens for Quick Cooling.
• Tabs easily open completely for quick cooling or to remove child.
• Grows with Child .
• Multi-level crotch-harness slits let GoCozy adjust as your child grows.
• Plush Fleece Inside, Water-Repellent Nylon Outside.
• Non-pilling fleece keeps warmth in, outer layer of soft nylon keeps out rain, wind and chill.
Material: Grey Nylon outer / Black Fleece inner.
While there isn't a law requiring ecommerce stores to have a Return Policy, you may need one if you wish to enforce your terms and parameters of returns and refunds.

For example, in the state of New York, if a retailer does not provide a Return & Refund Policy, the retailer will be required to accept returns and give refunds for all merchandise returned within 30 days of purchase. If you wish to limit this in any way, you will need to create and post a Return Policy with your own custom terms.

Another reason for having a Return Policy even if not required by law is that most consumers prefer to shop at retailers with a clearly-posted Return Policy. This is especially important when shopping online, as more issues are likely when purchasing something without being able to see it in person first.

If you don't have a Return Policy, you may be at the mercy of state laws regulating return and refund timeframes. You may also lose potential customers who are concerned about not being able to return a product if they need or want to.
PURCHASE OVER $100
GET FREE SHIPPING