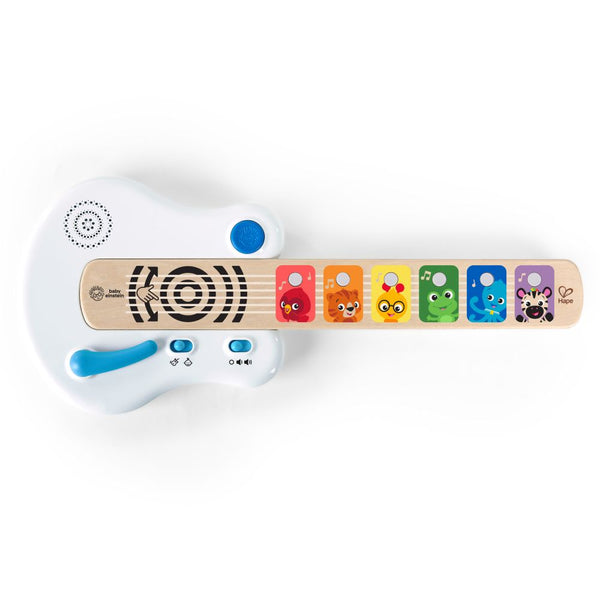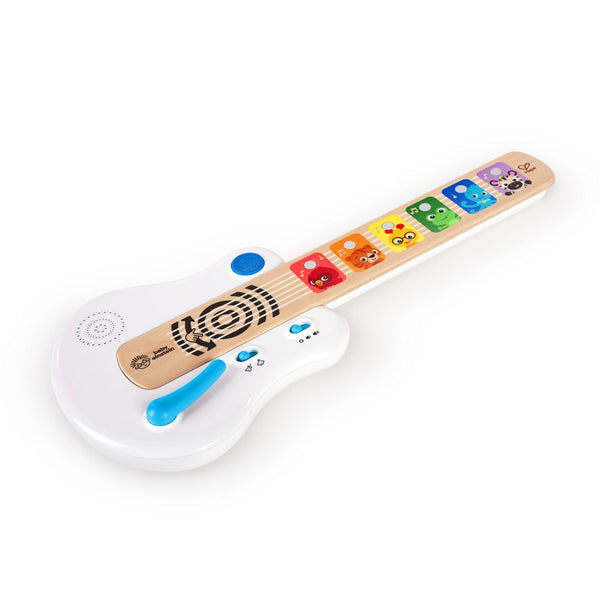 With the delicate touch of their little fingers, Baby Einstein and Hape's Magic Touch Guitar will let baby create thousands of different songs.
Made from wood and plastic, this guitar toy features magic touch technology, no buttons or strings needed!

Tap each of Baby Einstein's friends on the guitar neck to play all kinds of guitar sounds.
Each cute character plays a different note.
It even includes a whammy bar !

Giving your baby toys that make music helps her tune into different rhythmic patterns and sounds at a young age.
They will practice colour coordination while enjoying the lovely tunes.
But this toddler toy isn't just for kiddos so join them to have just as much fun!
And don't worry about waking little brother or sister.

The volume control buttons let you turn the music to low when you need to, or crank it up to high for a main-stage guitar performance.
At either volume, the higher end quality speakers make sure your baby's sonata sounds just right.

FEATURES:

Unleash your baby's creativity with her first guitar.

Wooden guitar magically makes music!.
Create your own songs or discover familiar ones.
Child safe and durable materials.

CARE & MAINTENANCE:
Wipe clean with damp cloth and mild soap. Do not immerse in water.

Measures : 42 cm x 18 cm x 5 cm
Item in Box measures: 45 cm x 24 cm x 5.5 cm. Recommended for infants for 12 months & up.
Includes 3 x AA batteries.

While there isn't a law requiring ecommerce stores to have a Return Policy, you may need one if you wish to enforce your terms and parameters of returns and refunds.

For example, in the state of New York, if a retailer does not provide a Return & Refund Policy, the retailer will be required to accept returns and give refunds for all merchandise returned within 30 days of purchase. If you wish to limit this in any way, you will need to create and post a Return Policy with your own custom terms.

Another reason for having a Return Policy even if not required by law is that most consumers prefer to shop at retailers with a clearly-posted Return Policy. This is especially important when shopping online, as more issues are likely when purchasing something without being able to see it in person first.

If you don't have a Return Policy, you may be at the mercy of state laws regulating return and refund timeframes. You may also lose potential customers who are concerned about not being able to return a product if they need or want to.
PURCHASE OVER $100
GET FREE SHIPPING